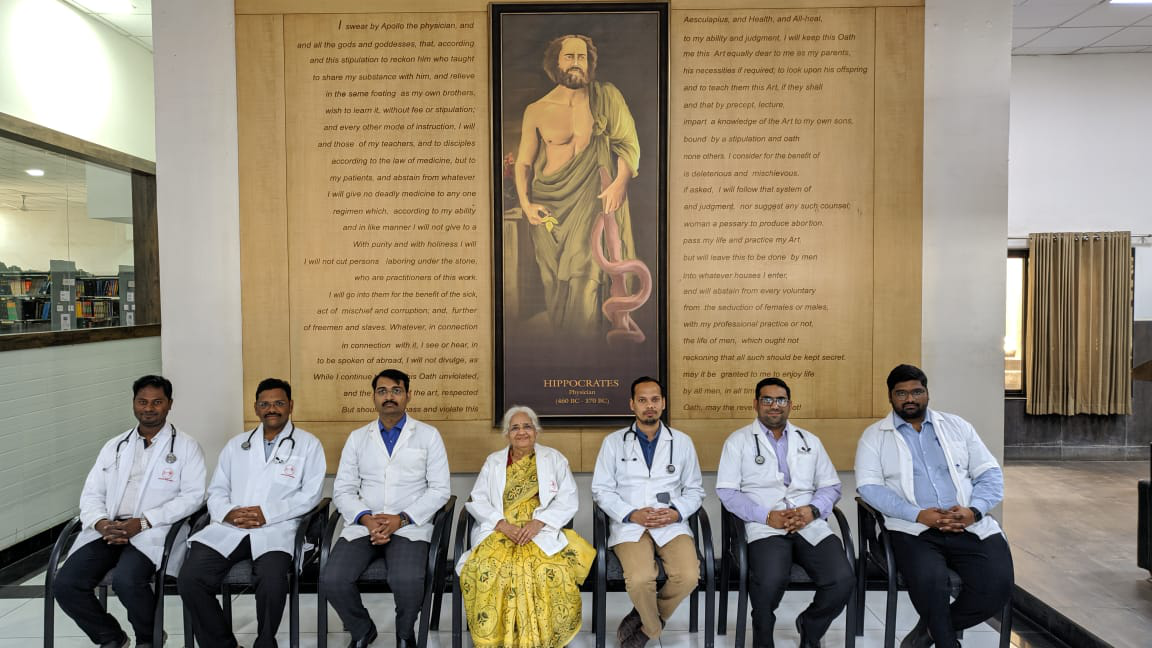 Goal
To improve the safety and quality of care and reduce waiting period for patients in Emergency Medicine services.
---
Objective
To train the residents in emergency medical services, administrative and legal activities of the emergency department.
To train medical students, nurses and paramedical personnel.
To provide pre-hospital medical services.
To promote research in Emergency Medicine.
Establishment of Emergency medical services and dept
Before 2007 , emergency patients were managed in casualty and trauma care.
In August 2017, Emergency ICU and Emergency Medical Ward were established. Separate Emergency medicine department was started. Dr Prabha Nayak was head of the department.
In June 2019, the services were upgraded and the state of art EMS were made available since 15th June 2019.
PROGRAMS PROVIDED
Applied For M.D. Emergency Medicine
Teaching Faculty Dr.Salve Shobha Bansi
Professor & Head
View Profile Dr.Mahajan Swati Manikrao
Professor
View Profile Dr.Dase Rajesh Keshavrao
Associate Professor
View Profile Dr.Surwe Rahul Ravindra
Associate Professor
View Profile Dr.Tayade Deepak Narayan
Assistant Professor
View Profile Dr.Nakel Mahavir Pannalal
Assistant Professor
View Profile Dr.Kunde Pallavi Bhimrao
Assistant Professor
View Profile Dr.Joshi Bhavna Pramod
Tutor
View Profile Dr.Deshmukh Shweta Vinodrao
Tutor
View Profile Dr. Adchitre Sangita Arun
Associate Professor
View Profile Dr.Naval Sameer Sahebrao
Assistant Professor
View Profile Dr.Takwale Glory Vinay
Tutor
View Profile ggg
Administrator
View Profile
Non-Teaching faculty
Infrastructure
Infrastructure
Ems has 9000 sq. feet area
RESUSCITATION AREA
ASSESSMENT & RESUSCITATION AREA – Has 9 beds including operation theatre for day care and minor and major emergency life saving surgical procedures. As per triage, Patient care is taken in red , yellow and green zone. SOPS are made available for patient management and as a learning resource for students and nursing staff.
Patients are stabilised and then shifted to Emergency ward or Emergency ICU.
EMS WARD
It has 8 beds in female and male ward. All patients are monitored with multipara monitors.
EICU
8 bedded ICU with facility of ventilators and defibrillators for caring critical patients is available.
Separate Registration facility and Drug store is made available for patients who need emergency medical services
PREHOSPITAL SERVICES
Well equipped ambulance service with trained paramedical staff is available for pre hospital care of critically ill patients

EQUIPMENTS in EMS
Availability of equipments like invasive, non invasive & jet Ventilators, Biphasic Defibrillators, Syringe pumps, Laryngeal mask airway, laryngeal tubes and cricothyrotomy set are available for critical patients in Resuscitation area.
Portable x-ray, Ultrasonography and CT Scan in EMS help in early diagnosis and initiation of treatment.
Facilities available :
Investigation facilities are available round the clock. As needed help from NABH accredited Central laboratory with Pathology, Microbiology and Biochemistry facilities, Blood Bank & Components is available.
All emergency services for Medical, Surgical, OBGY & Paediatric Patients, Dialysis, X Ray, CT Scan, MRI, Sonography, Cathlab, OT, Endoscopy are also available
Clinical work load Data :
Average daily OPD per unit : 120-140/day
Average daily IPD per unit : 35-40/day
Average daily bed occupancy rate : 80-90%
Activities
ACTIVITIES
Museum having Educational CDs, X-Rays ,ABG reports, Emergency airway management, Oxygen therapy, charts, Equipments is established for students and paramedical staff.
Emergency Department works in collaboration with the Medical education and skill development unit, Red Cross (Aurangabad Branch)
Activities Include
Training of Basic Medical Skills
Training of BLS training
Training of ACLS training
Training of Communication Skills
Value added courses
Lectures for Under Graduate Students :
For 3rd MBBS students, covering commonly encountered emergencies has been initiated since March, 2018.
Topics include:
Burns
Respiratory Arrest
Cerebrovascular Accident
Myocardial Infarction
CPR in special situations
Future Plans
Training of emergency medical practices to under graduates, post graduates and paramedical staff.
MCI recognition of the department to start Postgraduate course in Emergency medicine.
Encouraging all medical and para medical personnel to be certified ACLS and BLS trained personnel.
Encourage students to participate in workshops and research activities in the field of emergency medicine.