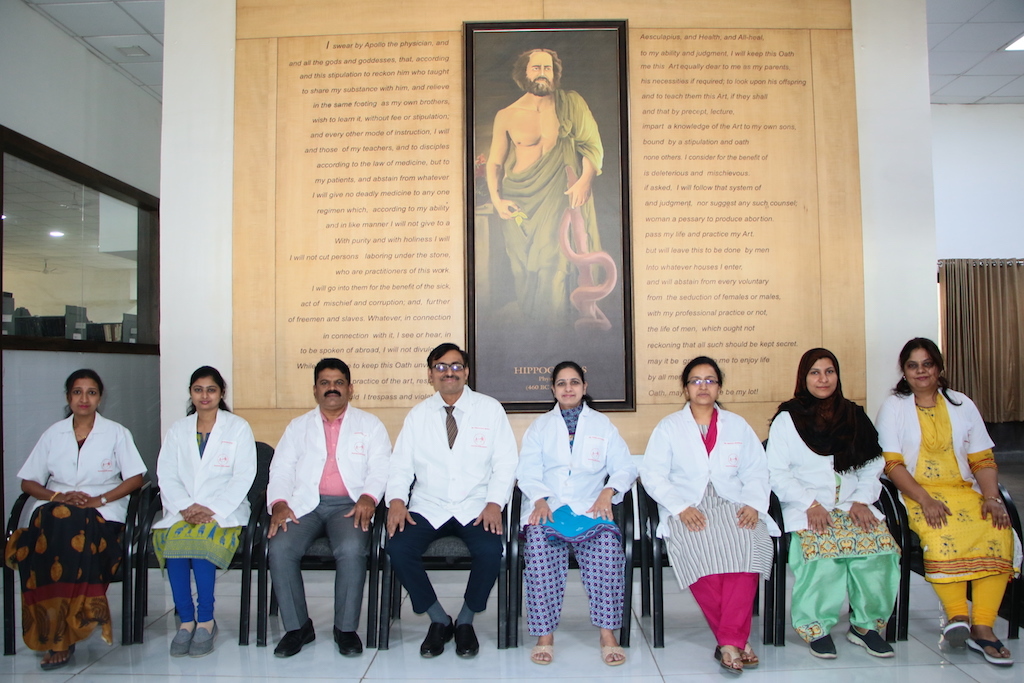 Goal
The broad goal of teaching of undergraduate students in biochemistry is to make them understand the scientific basis of the life processes at the molecular level and to orient them towards the application of the knowledge acquired in solving clinical problems.
---
Objective
KNOWLEDGE:
At the end of the course, the student shall be able to:
Describe the molecular and functional organization of a cell and list its sub cellular components.
Delineate structure, function, & interrelationship of bimolecules & consequences of deviation from normal
Summarize the fundamental aspects of enzymology & clinical application wherein regulation of enzymatic activity is altered.
Describe digestion & assimilation of nutrients & consequences of malnutrition 5. Integrate the various aspects of metabolism & their regulatory pathway
Explain the biochemical basis of inherited disorders with their associated sequelae.
Describe mechanisms involved in maintaince of body fluid & pH homeostasis
Outline the molecular mechanisms of gene exprassion & regulation, the principle of genetic engineering & their application in medicine.
Summarize the molecular concept of body defence & their application in medicine.
Outline the biochemical basis of environmental health hazards, biochemical basis of cancer & carcinogenesis.
Familiarize with the principles of various conventional & specialized laboratory investigations & instrumentation analysis & interpretation of a given data.
Suggest experiments to support theorical concept & clinical diagnosis.
SKILLS:
At the end of the course the student shall be able to :
Make use of conventional techniques / instruments to perform biochemical analysis relevant to clinical screening & diagnosis.
Analyse & interpret investigative data.
Demostrate the skills of solving scientific & clinical problems & decision making
INTEGRATION:
To integrate various biochemical aspect of diseases & with their laboratory investigations.
BEST PRACTICES :
Teaching & exam schedule displayed to students & implemented 100%.
Computer assisted teaching & learning using standardized power point slides & animations.
Emphasis on applied aspects like 'case studies.
Regular formative evaluation of student by written tests, vivas & practical exams.
Students participation in co-curricular activities like seminars & quiz and poster presentation competition and interactive teaching learning methodology with the help of audiovisual aids such as LCD projector ,Internet access ,OHP to extract talent in students is encouraged.
Rank holders of university exam,quiz & seminars are fecilitated.
Remedial testing programme is conducted for academically poor students.
Students feed back about faculty & department is obtained & actions are taken to improvise.
---
About Department
Department of Biochemistry was established in year 1990. The teaching faculty is well qualified and hold M.C.I. recognized postgraduate degrees. The teachers are competent and additionally trained in medical education technology. They have participated in National ,International Conferences , CME s and also involved in discharging administrative duties for institution and University and participating in clinical central Laboratory services.
The department follows a well defined UG programmes spread over two semesters. The department utilizes self developed learning resource material effectively dispensing of teaching learning process including emphases on interactive student centric methods such as problem based learning. The results have been consistently good.
The department effectively renders its clinical laboratory services through central pathology laboratory. Currently research work is going on Diabetes mellitus ,obesity, cancer, Acute Myocardial infarction and chronic kidney diseases. The department is keenly involved in updating the knowledge of all stake holders and keeps itself abreast with recent advances by actively participating in conferences, CMEs, Seminars and workshops. Such efforts of departments towards creation, sustenance and enhancement of academic ambiance is reflected by various publications by the faculties in national journals and on engagement in different types of research project.
Programs Offered
MBBS
MD BIOCHEMISTRY
M.Sc. MEDICAL BIOCHEMISTRY
Ph. D. MEDICAL BIOCHEMISTRY
Teaching Faculty Dr.Bhale Dhananjay Vasantrao
Professor & Head
View Profile Dr.Vaishnav Deepali Milind
Professor
View Profile Dr.Hivre Manjusha Damodar
Assistant Professor
View Profile Dr.Jambure Ashlesha Mahesh
Assistant Professor
View Profile Dr.Ansari Hinakausar Faiyaz Ahmed
Assistant Professor
View Profile Dr.Anandgaonkar Ruta Prakash
Tutor
View Profile Mr. Guddetwar Sanjay Govindrao
Tutor
View Profile Dr.Holkar Shrirang Ravji
Assistant Professor
View Profile xvx
Associate Professor
View Profile
Non-Teaching faculty
Infrastructure
The department is well equipped with facility for offices, departmental library, seminar room, two demonstration rooms, museum, lecture hall with LCD projector, undergraduate departmental laboratory and post graduate research laboratory. The department claims for future expansion in next 5 years and focus on research work in the field of endocrinology, cancer biology, immunology and genetic disorders.
LABORATORY SERVICES :
The department has well equipped laboratory as per the curriculum for the undergraduate and post graduate courses. The department effectively renders its clinical laboratory services through central clinical laboratory. This houses modern and advanced equipments such as fully automated analyzers (dimension RXL), immulite 1000 chemiluminisent immune assay, blood gas analyzer, electrolyte analyzer, coagulometer, ELISA reader.
Up-gradation of services in terms of instrument and equipments :
Dry chemistry analyzer : VITROS 5600 and VITROS 250 : for Biochemistry and Hormonal assay.
Departmental Undergraduate laboratory for performing various practicals and demonstrations of Biochemistry experiments for First MBBS , BSc Allied Health sciences , BPTh , BSc Nursing etc is available.
Departmental Postgraduate research laboratory is well equipped with advanced equipments such electrophoresis, chromatography, spectrophotometer, flame photometer, PH meter, research centrifuge etc to conduct research work for postgraduate students of MD Biochemistry, M. Sc Medical Biochemistry, PhD Medical Biochemistry.
Departmental liabrary is having 154 books of various authors and is available for MD, Msc and Ph D Medical Biochemistry postgraduate students and also for departmental faculty members.
Departmental Museum is having various charts , posters , models of various biochemical pathways , clinical cases and equipments as a learning resource for undergraduate and postgraduate students.
THRUST AREAS OF RESEARCH : Well equipped research laboratory with thrust areas of research in oxidative stress, infertility, obesity, diabetes, chronic kidney diseases, acute myocardial infarction,etc.
FUTURE PLANS:
Achieve academic excellence .
Taking up research projects and involve students in these projects.
Enhance the functionality and reach by creating e learning platform for the institute.
Conducting research work in cancer biology, infertility, genetic disorders.
Activities
Sed ut perspiciatis unde omnis iste natus error sit voluptatem accusantium doloremque laudantium, totam rem aperiam.
Facilities
Clinical Facilities and Special Services Provided by Department :
Routine Biochemical tests performed in central pathology laboratory.
Special tests hormones ,tumour markers in Endocrinology laboratory under central pathology laboratory.
Daily Quality maintainance of Clinical Biochemistry laboratory Endocrinology laboratory in central pathology laboratory.